Back in my bachelor days and early career, my friends and I liked to celebrate July 4th by playing the traditional British lawn games of croquet and badminton. As history buffs, geeks, and professionals, we appreciated the irony. Now, my recent personal tradition is to celebrate Independence Day with a week or so of Sid Meier's Colonization. I first played this game when it was released in 1994 and have revisited it at least once in every year since. This well designed and implemented title will appeal to anyone familiar with Sid Meier's Civilization franchise (currently in its fifth edition). Unfortunately, the original Colonization itself was never remade or updated, unless you count the woefully lacking and underdeveloped Civilization IV: Colonization. This year, my two boys joined in on the tradition as we aspire to foment and implement treasonous rebellion!
Without a doubt, Colonization's graphics are hopelessly out-dated. But quite frankly, for people of my generation, that is part of its charm today. Of course, that was if you could even get the game to run. Previously, the greater issue for gamers wishing to brave a new world was three-fold. One, if you were fortunate (like me) to own the original discs (3.5" floppies!), then good luck finding a modern computer with a floppy drive! Second, barring that, the game was nigh impossible to buy, so you would have to download the files from an abandonware site (I'll not link to any, as some people have ethical concerns with them). And finally, even with the original discs or files, today's operating systems will not run Colonization. It is a DOS program. This is easily remedied by downloading the free program DOSBox, which creates a virtual DOS environment in which to run those old games and programs. With some reading up and practice, you should be able to navigate DOSBox and its functions fairly effortlessly. You'll brush up on your command line typing in short order. Today, though, you can bypass all that, if you wish. For a small price, the fine, old-school, gaming aficionados at gog.com offer the original Colonization, Windows compatible, in all its charming, VGA glory.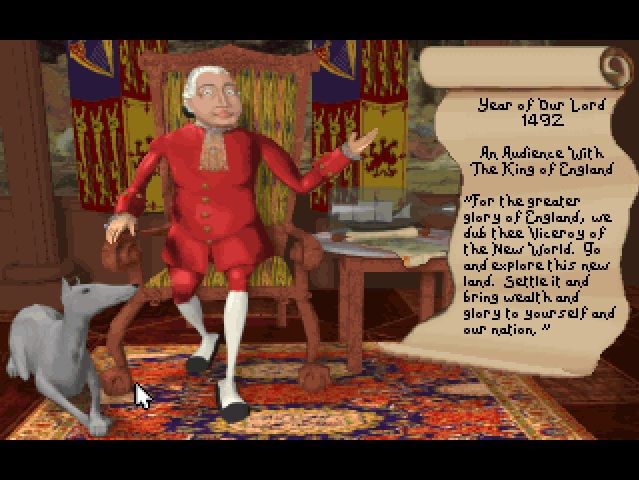 It begins with Columbus. Deal with it.
Colonization is a turn-based, 4x (explore, expand, exploit, exterminate), civilization management game. Beginning in 1492 (sorry, Leif Ericson), you set sail with one boat and a couple of colonists with which you will found, grow, and develop a European colony in the new world in the hopes of eventually achieving self-sufficiency and independence from King and country. The economic and production models are quite in-depth, or were for their time, and the entire design is logical and intuitive, slick and sophisticated. In addition to your own task of developing an efficient colony, you will struggle with Native Americans defending their homeland, other European powers trying to exploit it at your expense, and eventually your own sovereign.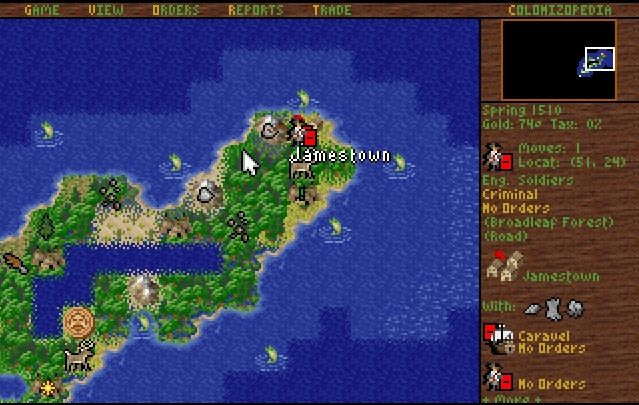 The early map.
The heart of the game is harnessing the vast wilderness and its resources for wealth and power. Early on, you'll accomplish this through fur trapping, silver mining, and/or exploiting cash crops like tobacco, sugar, and cotton, for quick profits. As you grow, you'll turn those raw resources into more refined products like coats, cigars, rum, and cloth for even greater income. You'll also need to timber the vast forests for lumber to construct basic buildings, while later advanced structures will also require you to mine iron ore in order to make tools. All of this comes in due time. When you begin, you'll primarily be dependent upon the home country for trade and immigration. And the Crown graciously makes you pay more and more in taxes for the privilege. Eventually you'll be able to trade with the Natives and other Europeans. There are eight native groups in three developmental levels, from the city-building Aztecs and Incas to the more nomadic lifestyle of Apache and Sioux. Also, there are four European empires represented between Spain, England, France, and the Netherlands; one of which you choose and all with a unique trait that impacts play and strategy.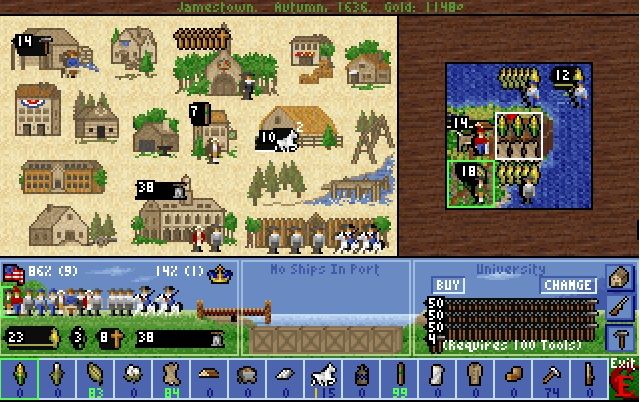 The colony screen.
Of course, you need colonists to build a colony. There are nondescript "free" colonists who will perform average labor at any endeavor. But there are also specialists that you can attract, hire, or train in any of the jobs available and will perform much better. These various colonists will randomly immigrate to your colonies for free from time to time (represented as religious dissent which is generated by cross production in your colonies' churches). But many of them you will also need to pay for. Free colonists are hard workers and will be adequate early on and do in a pinch, but coupling your specialists with the most advanced buildings and spaces will reap the greatest yields. So, for example, in order to turn out the greatest number of muskets, your labor/building tree must look like the following: have an Expert Ore Minor mining a hill terrain space on which a Hardy Pioneer has built a road (using tools), which provides ore to an Expert Blacksmith working in an Iron Works, a third-level building which you can't complete until Adam Smith joins your Continental Congress, which will in turn provide tools to a Master Gunsmith working in an Arsenal, another third-level structure, which will churn out muskets.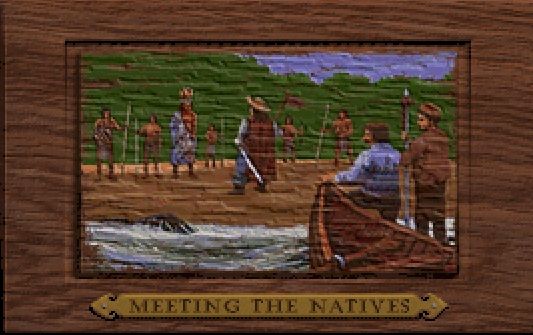 Aside from developing your economy and infrastructure, you'll need to devote time, planning, and resources to protecting your colonies. Some of your colonists will need to serve in the militia, and good luck getting through an entire game without at least some conflict with the natives or other Europeans. Indeed, true to historical form, another means to riches and expansion is at the expense of other peoples. Trading with the indigenous tribes and staying away from their settlements will reduce tensions, but sooner rather than later, just your growing size will begin to alarm them and strain relations. They will raid your colonies to varying degrees, but can also be helpful from time to time. Aside from that, you can actively campaign against them, taking the fight to their doorstep and wipe out whole settlements at a time. Depending on the tribe, it can even be quite lucrative, something to consider while struggling with your conscience. Less objectionable is taking out encroaching Europeans spread too close to your lands. An expedition or two against a rival colony is a nice way to quick riches, while weakening your opposition at the same time. Yet, be prepared for a similar strategy from them!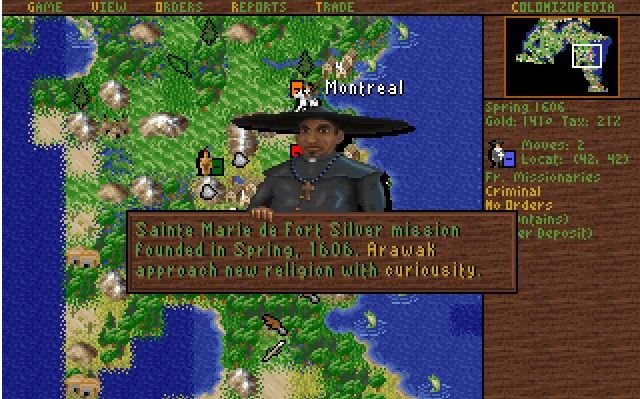 Converting the natives?
The other critical in-game development is Liberty Bells, which serve two important purposes. A lot of civilization games have technology trees and Colonization's is represented by the Continental Congress. One at a time, great leaders will arise as you generate more and more liberty bells. These Founding Fathers give you a variety of bonuses essential to your progress. Second, liberty bell production increases Sons of Liberty membership. This is significant because at least 50% of your colonists, though ideally greater than that, must support independence before you can make such a declaration. Additionally, as rebel sympathizers gain a majority within a colony, it will earn production bonuses and upgrade more militia units to Continental regulars at the time of the Revolution.
The fickle market.
As you can see, there are a lot of moving parts to Sid Meier's Colonization. There are still many details and subtleties I've not covered, at all. You'll need to brace yourself for the very long haul. While all of that makes for a wonderfully epic experience, it can be rather complex and slow for kids. My boys like to watch me play the game and offer plenty of advice as to how I should run things. However, they generally lose interest after the first hour, or so, of solo play. Cory likes to run around and explore the map; while Brendon turns into a war game, going after Natives and Europeans in equal fervor. The economic and production strategies are only in their nascent stages in the minds of my 4th graders.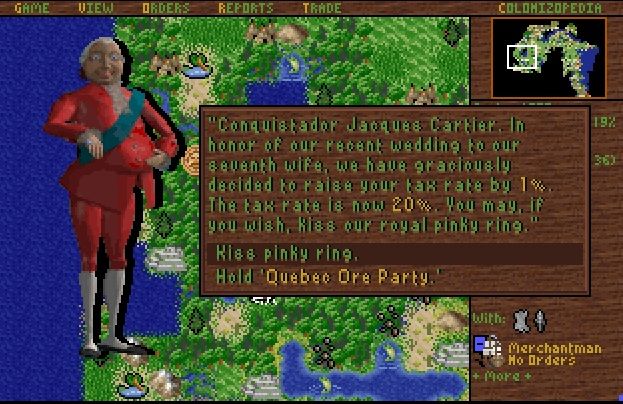 Feels like you're kissing something else on him...
Epic, turn-based, civilization management games are rare these days. It seems that the first-person, adventure story games are by far the most wildly popular. Titles such as Halo and Call to Arms are quick, down-and-dirty, and action-packed. Disposable is the word I would subjectively apply. Colonization emerged from the 1990s, the hey-day of the 4X genre. It was one of the more critically acclaimed and commercially successful titles of the genus. It is complex and sophisticated. It also covers a fascinating period of history that has always been under-represented across all styles of gaming. If you pine for the glorious days of DOS gaming, or if you have always enjoyed franchises like Civilization, Master of Orion, or Europa Universalis, I highly recommend getting Colonization from gog.com or finding a download online (with DOSBox) and start channeling your inner Jefferson!